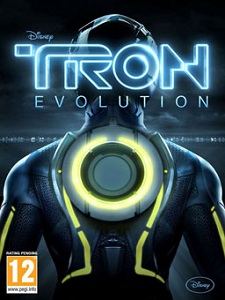 Movie tie-ins are notorious for poor visuals, repetitive game play and an overall sense of having been rushed through production, yet this is not the case for Tron: Evolution, which hit stores in late November. Although some aspects of the game, available on both the Xbox 360 and PS3 platforms, do feel a little clumsy and rushed, the overall experience of Tron is certainly a rewarding one and well worth the price tag for movie and action game fans alike.
[Read more]
It is the dawn of the industrial age. 50 years have passed since the events of Fable II. The fate of Albion rests in the hands a new hero that is destined to start a revolution, overthrow the current king, take the throne, and destroy an evil darkness that threatens the land. Will the hero chose a righteous and benevolent path, or a dark and evil path? The adventure begins, and it is up to you to ultimately decide what path you choose.
The story begins during a dark time in Albion. The hero's cruel brother is seated on the throne and the people of Albion loathe him. He is a cruel and heartless ruler. The hero that you play as is the younger sibling. The great hero from Fable II happens to be one of your parents, and you are sure that the way your brother is ruling the land is not the way your parent had intended.
[Read more]
If there's one thing that developer LucasArts is known for, aside from bringing George Lucas's far, far-away galaxies to game systems near you, it would have to be the gaming gold mine of witty and whimsical adventures that the company produced in the nineties. A winning formula of clever puzzles, memorable characters, and sabre-sharp writing has ensured these games a place in the most hallowed sanctuaries of interactive classics. Among these was the Monkey Island series, which was comprised of four entries in its initial glory days from 1990 to 2001.
[Read more]
In 1998, Blizzard Entertainment released StarCraft, a real-time strategy video game that depicted an epic battle for supremacy set in the 26th century. Players could choose to fight for dominance as one of three species: a group of humans exiled from earth known as the Terrans; an insect-like species known as the Zerg; and the Protoss, a humanoid race that was advanced in mental and technological capabilities. The game focused on harboring resources and building settlements that could support an army and a fleet of vehicles and airships strong enough to destroy any enemies in the vicinity.
[Read more]
Metal Gear Solid 3:  Snake Eater was a huge success.  Because of this, an expanded version was released, Metal Gear Solid 3:  Subsistence.  This version is packed with extras!
There are so many new features I don't know where to start.  First off Metal Gear Solid 3:  Subsistence includes Snake Eater along with the original Metal Gear and Metal Gear:  Solid Snake.  The game play and story is relatively the same.  Snake still uses stealth and deadly weapons to get the job done.  This includes hiding in boxes, covering himself with camouflage and snaking through grass, sneaking past guards, etc.  Weapons include:  guns, rocket launchers, and of course… close quarters combat (CQC).
[Read more]
The Burnout series has done well on a scale of epic proportions.  The newest in the series, Burnout:  Revenge, is meeting with the same stunning success.  This version is the sequel to Burnout 3.  It is all about revenge and destruction, not just winning the race!  It is available on several consoles, but the XBOX 360 version has the best perks.
In Burnout:  Revenge, you need to drive downright dirty!  Every car is suitable for you to destroy.  Cause massive accidents during rush hour, bump your rival racers into a wall, and always remember not to dodge traffic…crash into it!
[Read more]
If you enjoy the fun a quirky RPG (role playing game) Atelier Iris then you may enjoy the next in the series, Atelier Iris 2:  Azoth of Destiny.  This second installment features a brand new story on a completely different planet, Eden.  Eden is a land where the inhabitants coexist peacefully and use a magic known as Mana.  They can wield the Mana with the help of alchemists. 
You play with 2 main characters, orphans named Felt and Viese.  One day, earthquakes devastate the world of Eden.  It is up to the orphans to figure out what is wrong and save Eden before it is too late.  Felt gets a hold of a mythical sword called "The Azure Azoth."  Felt is then called "the Chosen One" and sent to an alternate world called Belkhyde that seems to have some influence on the problems of Eden.  Viese stays on Eden and tries desperately to save it.
[Read more]
One of the most popular MMORPG's (massively multiplayer online role playing games) on the market is Guild Wars.  The release of Guild Wars came with such stunning success that the second in the series was recently released, Guild Wars:  Factions.  This game is sure to be a success, just like its predecessor.
Guild Wars:  Factions takes place on a different continent than the first game.  It is an Asian inspired land called Cantha.  You don't need to have the first Guild Wars in order to play Guild Wars: Factions.  But it is nice if you do have it because you can travel back and forth between Cantha and Tyria (the land in the first game).  You can play with your previously created character from the first game, or create a new one.
[Read more]
Fans of Kingdom hearts will be glad to know that the second in the best selling game series has been released.  In Kingdom Hearts II, Disney elements are combined with Final Fantasy elements to make a truly excellent game!
The story starts one year after the events of the first Kingdom Hearts in a place called Twilight Town.  You follow the actions of a young and troubled boy named Roxas.  Sora, Donald, Goofy, and more characters return.  This includes appearances by many Final Fantasy characters, along with many Disney characters that were not in the previous game.  Visit old and new locations from Disney movies including:  Mulan, Pirates of the Caribbean, and Beauty and the Beast.  Sora must look for clues as to who the Heartless are and what is behind Organization XIII.  The plot is very well written and will leave you guessing until the end… when all is finally revealed.
[Read more]