Tomb Raider: Legend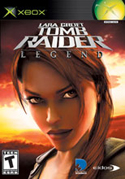 Tomb Raider fans have long been waiting for the return of the sexy Lara Croft.  She finally makes her return in the highly anticipated newest edition to the game saga, Tomb Raider:  Legend. 
Some of you may be wondering if this game is worth your time.  Some of the previous Tomb Raider games were not very fun or impressive.  In fact they were down right terrible.  But Tomb Raider:  Legend is absolutely awesome and quite possibly the best in the saga.

Take your adventurer, Lara Croft with her guns at her hips to various exotic and modern locations.  Yes, you still raid ancient tombs, evade traps, solve puzzles, and explore dangerous locations.  But this time it is much more fun.  Lara has a whole menagerie of brand new weapons, communication devices, and tools at her disposal.  I personally like the grappling hook.  I found myself using it many times to swing over a dangerous pit, or to grab at something I just couldn't reach.  If a baddie approached, I would engage him in a quick and impressive gun battle.  There were also a few vehicle chases.
A huge improvement to the game is the controls.  The controls of Tomb Raider: Legend are much more fluid and extremely flawless compared to previous editions of the game.  No longer does Lara feel clumsy and awkward.  Movement is just beautiful. 
Speaking of beauty, the environments are just breath taking.  In fact, I had to sit back and blink a couple of times.  All of the environments are living and breathing.  Whether if you are a top a building, trudging along a snow capped mountain, or sneaking around an ancient tomb you will feel as if you are really there.  Not to mention the fact that much of the game's environment is usable and must be used to your advantage in order for you to proceed.  Many of the games' puzzles are solved by using the things around you.  Pay attention!
Some other perks to Tomb Raider:  Legend is that there are numerous secrets and unlockables.  If you thought Lara was sexy in her usual outfit, wait until you see the others…
Tomb Raider:  Legend is available on Playstation 2, XBOX, and XBOX 360.  It has an ESRB rating of T for teen.  This is because the game features violence, suggestive themes, language, and blood.  For you cheaters out there, a strategy guide is available.