Call of Duty 2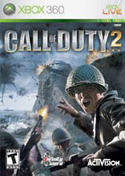 Do you like the intense action of realistic war games?  Do you want an overwhelming battle experience?  Do you want bullets to zip past you constantly?  If any of these sounds like something you may be interested in, then you may enjoy Call of Duty 2.
Call of Duty 2 is probably the best and most realistic World War II game inexistence.  Never before has the feeling of defending freedom and becoming a hero felt so real.  This game is the second in the series.  It offers more realistic battles, stunning cinematic-like graphics, intense game play, and more intelligent AI.

The graphics of this game are truly nothing to be compared with.  This is because of the new COD 2 engine.  All of the graphics are flawless.  Snow, rain, smoke, shadows, and other aspects are present.  The sound is also impeccable.  You can clearly hear the chatter of your troops, explosions, gunfire, and other war sounds!  This game will take you to from battles in Russia, to missions in Africa!
Call of Duty 2 features intelligent AI.  Your squadron will be fully aware of the ever changing situation surrounding them.  They will talk to you about the situation, draw enemy fire, make use of fox holes, cover you, warn you of approaching enemies, and use grenades to flush out the baddies!  Not only that, the enemy AI is aware as well!  They will act according to their surroundings so be prepared!
The controls are quite easy to use and very smooth and fluid.  The battlefields are open.  This allows you to individualize your strategy and tactics.  You can fight battles in the order of your choosing and do things as you see fit.  Despite all of the free choices you can make, this game will still give you no time to rest.  The battles are harsh and always require quick thinking and intelligent strategy on your part.
Call of Duty 2 is available on XBOX 360 and PC.  You can play by yourself or online allied or against people from across the globe.  The ESRB rating is M for mature.  This means that it is not appropriate or available for children to purchase.  This is because of extreme violence, language, blood, and other war aspects.