The Burnout series has done well on a scale of epic proportions.  The newest in the series, Burnout:  Revenge, is meeting with the same stunning success.  This version is the sequel to Burnout 3.  It is all about revenge and destruction, not just winning the race!  It is available on several consoles, but the XBOX 360 version has the best perks.
In Burnout:  Revenge, you need to drive downright dirty!  Every car is suitable for you to destroy.  Cause massive accidents during rush hour, bump your rival racers into a wall, and always remember not to dodge traffic…crash into it!
[Read more]
Racing simulation games have come along quite well recently.  The graphics have improved. The authentic looks of the vehicles are great.  But most of these simulators are for cars.  For those of you who like the bikes, get ready for Tourist Trophy:  Real Riding Simulator.  Tourist Trophy was made by the same creators that made the ever so popular Gran Turismo series.
In Tourist Trophy, you get to play various different game modes throughout 35 different international courses.  These courses are either closed circuit or city tracks.  Some tracks you may even remember from Gran Turismo such as:  New York City, Suzuka, Tsukuba, Laguna Seca, and more!  Take on these tracks with your choice of over 100 different licensed motorcycles.  These include:  BMW, Triumph, Kawasaki, Ducati, Honda, Motorrad, and more.
There are various modes of play.  In challenge mode, you play a career type mode.  You start out trying to get your license.  You go through various tests and challenges that test your speed and skill throughout various conditions.  Once you accomplish that, you can then select various engine classes, along with the courses you wish to race.  You then get your garage access so that you can use the credits you accumulate from winning races to upgrade your bike and accessories.  The look of your rider and bike is fully customizable!
There is also an arcade mode for those of you who wish for a quick race or a split screen 2 player race against your friends.  Photo mode allows you to take pictures of your bike from the challenge mode.
Enough about that.  Now how are the controls?  The controls take a bit to master.  You need to learn when to lean, when to brake or accelerate (especially during turns), and how to follow the line.  Once you figure this out, you will see how fluid and graceful the movement of your bike and rider really are.  The way the game was made makes these motions look just beautiful.  This coincides with the gorgeous graphics!  The soundtrack is also pretty good.
Tourist Trophy is available on Playstation 2.  It has an ESRB rating of E for everyone.  This means that the game is suitable for even children to play.  A strategy guide is available for those of you who would like a bit of help.
While most racing games tend to be carbon copies of one another, using the same cars and with the handling feeling the exact same in each, there are those games that branch off and try to use their own unique feel. They can either crash or burn or offer an incredibly fun experience. The Ridge Racer series has always tended to lean towards the latter, and Ridge Racer 6 for the Xbox 360 follows a similar pattern.
Although it began its life as a successful arcade game, Ridge Racer was soon ported over to consoles and saw similar success. Gamers ate up the fast-paced racing action and thoroughly enjoyed the unique handling of the vehicles that the game offered. While many racers tend to try to be realistic, Ridge Racer 6 takes gamers near the edge of speed and allows them to reach a fast-paced, high intensity level that many racers never attempt to go.
[Read more]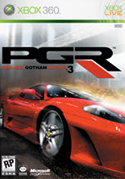 Current fans of the racing genre are in for a treat with the new Project Gotham Racing 3.  This third installment of the series offers better graphics and mood setting music.
This game allows you to drive the cars you have always fantasized about.  However, speed alone won't win any races.  You have to strut your stuff and perform bold maneuvers to win against your rivals.  There are over 80 vehicles to choose from.  Each vehicle is top of the line.  There are no cheap or "ratty" cars to select from!
Project Gotham Racing 3 is not too different from other racing games.  However, it does feature various driving viewpoints.  This includes a cockpit view that has an extremely realistic look to it.  The controls are easy to learn and quite consistant from vehicle to vehicle.
The game takes you to locations throughout the world.  Some of these locations include:  Tokyo, New York, and London.  Each location features jaw dropping backgrounds and stunning graphics.  While racing through, you may see it as a blur.  This is not because of poor graphics, but because of the speed at which you blast through!
You may play this game online.  Online you will find new features.  This includes: tournaments, Gotham TV, and the ability to create your own tracks.  You also can show off your racing skills to people across the globe!
Project Gotham Racing 3 is available on XBOX 360.  The ESRB rating is E for everyone 10 years of age and older.  This is because it features mild lyrics.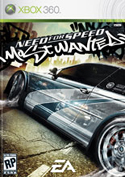 If you love to street race in your own tripped out vehicle while leaving rivals and law enforcement in the dust, you may be interested in Need for Speed:  Most Wanted.  This is the next in the series.  It follows the ever popular Need for Speed: Underground (which sold over 15 million copies worldwide).
This game allows you to roam the open roads throughout industrial and urban cities.  You can challenge rivals or police as you please.  Your goal is to become the most notorious, yet elusive street racer around.
[Read more]